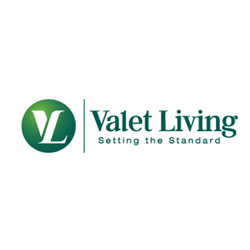 Valet Living
Resident Experience Specialist
Atlanta, GA
Grow as We Grow and Take Your Career to New Heights!
Do you have a knack for providing top-level customer service? Do you go the extra mile to ensure satisfaction for clients and guests? If so, this just might be the right opportunity for you!
We are seeking a Resident Experience Specialist to coordinate and provide amenity services to residents of our client communities. You will work directly with residents, community managers and home valets to coordinate service schedules and ensure that exemplary customer service is being provided. Amenity services includes pet walking, package delivery, doorstep garbage collection and dry-cleaning pickup and delivery.

Pay: $16 per Hour
Work Schedule: Must be available to work a schedule within our hours of operation Monday to Sunday 9:00am - 5:30pm (Weekend availability is a must)
Essential duties include:
Manage the communitys concierge suite and welcome residents, prospective residents, vendors, community staff and contractors when they come in
Keep the concierge suite clean, organized, well stocked and inviting for resident interaction
Assist residents who come to the concierge suite to make a service request by entering that service request into the system
Manage and organize the delivery of resident packages by accepting packages, arranging the delivery of the package and notifying the resident
Assist residents with questions and requests related to their amenity services in person, through email and via phone
Assist in resident communication efforts
Maintain an atmosphere of warmth, personal interest and positivity
Respond to all emergency calls in a prompt and efficient manner in accordance with established procedures
Develop and manage schedules for amenity services provided by the Home Valets
Provide exemplary and timely customer service to residents, pets and community staff
Build relationships with client residents and community staff
Ensure we are following outlined protocol while providing amenity services to residents
Maintain a daily activity log for all services provided to residents in the community
Conduct any amenity services needed in the absence of a Home Valet, including pet walking, dry cleaning pickup/drop off, doorstep trash collection and package delivery
Ability to perform other duties as assigned by the District Manager

You are a good fit if you have the following skills:
Must have a commitment to service excellence with a friendly and positive attitude
Must love dogs with an understanding and willingness to learn about their care
The ability to multi-task and handle various duties at one time
Time-management and problem-solving skills is essential
Maintain a professional appearance and friendly attitude toward residents and community staff
Must have excellent skills in Microsoft Office products
Able to keep up with the physical demands of being on your feet and walking for much of the day
Must be able to lift at least 25 pounds
Able to cope with inclement weather (rain, snow, cold, or heat wave, we walk through it all)
Must enjoy delighting all residents including pets and possess exemplary customer service skills
Must display excellent verbal and written communications skills
Attention to detail and quality
Ability to take direction, be reliable, work productively on ones own and adhere to a schedule
Own an iPhone with IOS 9 or newer or Android 6 or newer
Comfortable with downloading and using mobile apps
Must have a valid Drivers License with a clean driving record
Desire to be part of a fun and growing company
Education & Experience Requirements
High school diploma or GED required
5+ years of customer service experience in the hospitality industry
Experience working as a concierge in a hotel or luxury condominium is a plus
Experience in the multifamily industry is a plus
Certification or degree in Hospitality Management is a plus
We provide the following comprehensive, flexible benefits to our full-time associates and eligible family members.
Health coverage for you and your family through medical, dental, vision plans, and Pet insurance plan options
Tax advantages through healthcare savings and flexible spending accounts
Financial protection through disability, life, accidental death & dismemberment, and business travel insurance
401k plan with a generous company matching contribution
Generous paid time off program in which benefits increase along with your tenure with the company
Support of continued education through tuition reimbursement
Associate and family assistance program
Associate discount programs
Referral bonus program
Rewards and recognition program
Valet Living is an Equal Opportunity Employer that values the strength diversity brings to the workplace. We recruit, employ, train, compensate, and promote without regard to race, religion, creed, color, national origin, age, gender, sexual orientation, gender identity, marital status, disability, veteran status, or any other basis protected by applicable federal, state or local law.
Valet Living is the only nationally-recognized full-service amenities provider to the multifamily housing industry, performing more than 340 million events annually across 1.6 million apartment homes and 40 states. Through its portfolio of both business to business and resident facing amenities, Valet Living is also the only company in the multifamily industry to combine doorstep waste and recycling collection with both sustainability-related and premium home-related services. Valet Living has been setting the standard for residential living since 1995 and is now a portfolio company of the Private Equity Group of GI Partners.
Valet Living Associates: Privacy Notice
Effective Date: January 1, 2020
Posted 30+ Days Ago
Full time
R0018886
104364628
104364628